Logo Mats
A logo mat from Debomat in Temse is not only attractive, but also functional.  A logo mat creates a welcoming entrance to your building.  Thanks to the latest techniques, a logo mat can withstand UV-light ensuring that colours remain perfectly pristine and bright for the lifespan of the mat.  Our logo mats are available in both standard sizes or customised and can be installed if required. Endless colours, designs, texts, whatever your requirements, a printed logo mat will personalise your entrance.  Even our entrance matting systems can be personalised.  If you wish to see some examples of logo's incorporated into a heavy duty entrance mat, please click here.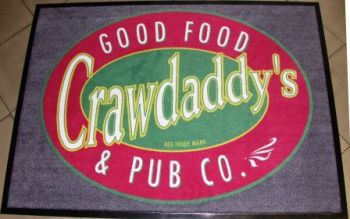 A logo mat can be produced in a number of ways.  The possibilities are printing and flocking. Printing is a process whereby ink is used to print the logo on the logo mat. Flock is the application of fine textile particles to an adhesive coated mat. Both methods to produce a logo mat are of the highest quality but each method has its own finished appearance. 
In close collaboration with our graphic designer, we can provide you with 2 examples free of charge to personalise your logo mat.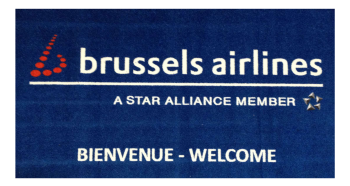 Below are a number of questions that we would ask in order to provide you with a quotation for the mat you require:
- Your logo in pdf, jpeg of ai file format to be supplied with request if possible
- Required background colour of the mat
- Required size of the logo
- Required size of the mat
- Is the mat lying in a recess or loose-lay on the floor
- Choice of printing or flock or both
- Will the logo mat be placed indoors or outdoors
See also our page about logo mats.